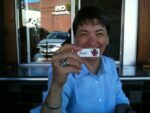 I am a former New Yawker-note the accent. I have lived in the Bay Area since the late 1970s–so that makes me an almost Native Californian. I am a retired psychotherapist, for 25 years I had a private practice specializing in grief and loss, addiction and recovery, and working with clients with severe trauma and ptsd;
From 2009-20014, I was the clinical director in a residential facility for elders with dementia in Oakland California; I  supervised our psychology interns in Masters and PhD Programs, these students  supported the families of our residents and worked with them, and their loved ones, as they faced the challenging and tender last years of living life with dementia;
In 2001-2008 I  worked with adolescents and their families in an outpatient substance abuse program in Hayward California. My vocation called me to many paths as a healer and teacher.
I am blessed to work as a psychic medium, loving-kindness meditation teacher, motivational speaker, trainer, educator, and last but not least, a performer of solo improv and comedy.
I taught Ethics and the Law as well as Ethics and Consciousness at JFK University from 1994-2002. My passion for teaching ethics was fueled by a deep understanding of what it means to be in a position of power as an educator and a healing arts practitioner. To "do no harm" to our clients' demands that we work consciously. It is an honor to work with others, and we owe it to ourselves, to our clients, and to our world to hold that work in great integrity, to hold boundaries appropriately, while being approachable and human.
 Readings:
Over the years my intuitive work began to change from psychic readings only to include mediumship as the door to the Other Side opened for my clients' loved ones in Spirit, to communicate. Not all psychics are mediums, but all mediums are psychic!
I too have been comforted by communication with my loved ones who have crossed over. I understand the gift of hope and ultimately great healing this brings.
Blessings and peace to your hearts and thank you for exploring my site.